CB Radio LT-298 40-Channel Compact Design with External Speaker Jack, Large Easy to Read LED Display Compatible with 12-24V Voltage
LUITON LT-298 CB Radio is a compact and affordable full 40 channel CB radio featuring CB with an easy-to-read large Led Digital display.
LUITON 40 Channel Compact Mobile CB Radio
LUITON Cb Radio
Feature:
Stable quality as Uniden PRO520XL; 4 W RF power 40 AM channels Channel 9 Mode AM switch With adjustable ASQ RSSI indication (4-digit LED indication) 2 Digit channel indication RF gain control Volume with power ON/OFF control TX/RX LED indication Up/Down microphone Front microphone plug Jack for external speaker Manual Squelch ANT Connector FREQ. expanding (A,B,C,D,E,F,POLAND and NZ band)
Transmitter:
System : CPU controlled P.L.L. synthesizer Maximum RF power : 4W -10W Modulation : 85% to 90% (AM) 2KHz ±0.2 KHz (FM) ANT impedance : 50 ohm unbalanced Current drain : 1500mA (at no modulation)
LT-298 Technical Indicators:
Channels : 40 AM
Frequency range : 26.960 – 27.400MHz
Frequency control : P.L.L.
Frequency Tolerance : ±0.005%
Operating temperature : -20°/+55°C
DC input voltage : 12-24V DC
Size : 115 (L) x 38 (A) x 150 (P) mm
Weight : 0.8 kg
Receiver:
System : CPU controlled Double conversion super IF : 1° 10.7 MHz / 2° 450 KHz Sensitivity : -120dBm for 12dB SINAD (FM) -107dBm for 12dB SINAD (AM) Audio output : @10% THD 2.5W at 8 ohm Audio distortion : <8% at 1 KHz Image rejection : 65dB Adjacent channel : 85dB Signal ise ratio : 45dB Current drain : 220mA (stand-by)
CB RADIO CB RADIOS cobra miland Uniden PRO520XL
LUITON LT-298 CB Radio is a compact and affordable full 40 channel CB radio featuring CB with an easy-to-read large Led Digital display.
This compact durable radio accepts 12-24v Power Source. Work for Both Car and Truck
Monitor your transmit power and check the relative strength of incoming transmissions with the built-in Signal/RF Power Indicator
LT-298 CB Radio is ideal for CB users seeking an affordable radio with CB, Instant Channel 9 Emergency Button, Channel Up/Down Buttons, and S/RF Meter.
Built-in External Speaker Jack allows connecting to an optional external speaker. Included in the box: CB Radio, 4 Pin Electret Microphone, Mounting Hardware, Mounting Bracket, User's Manual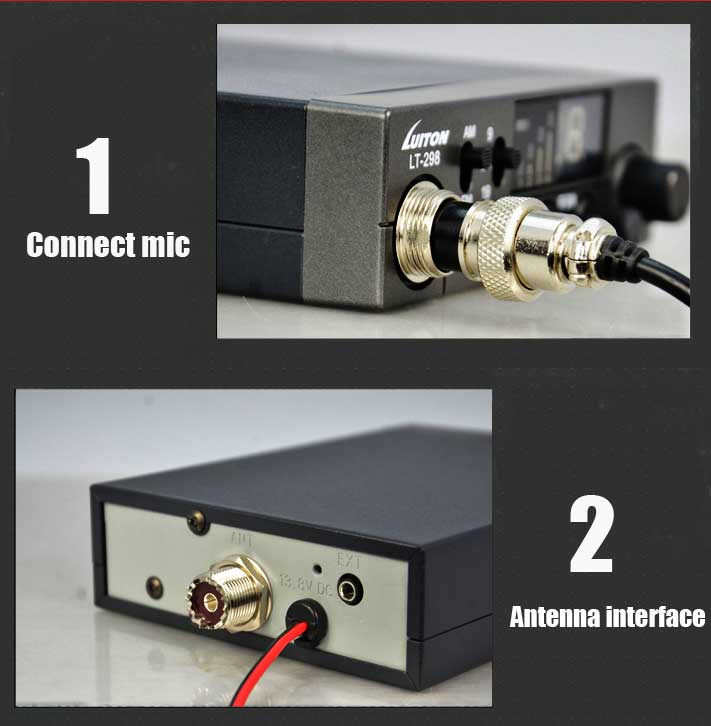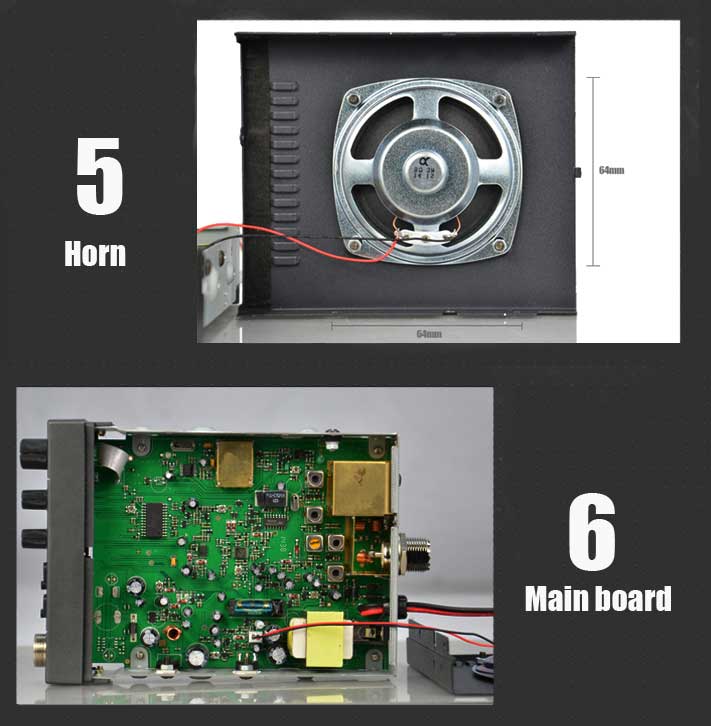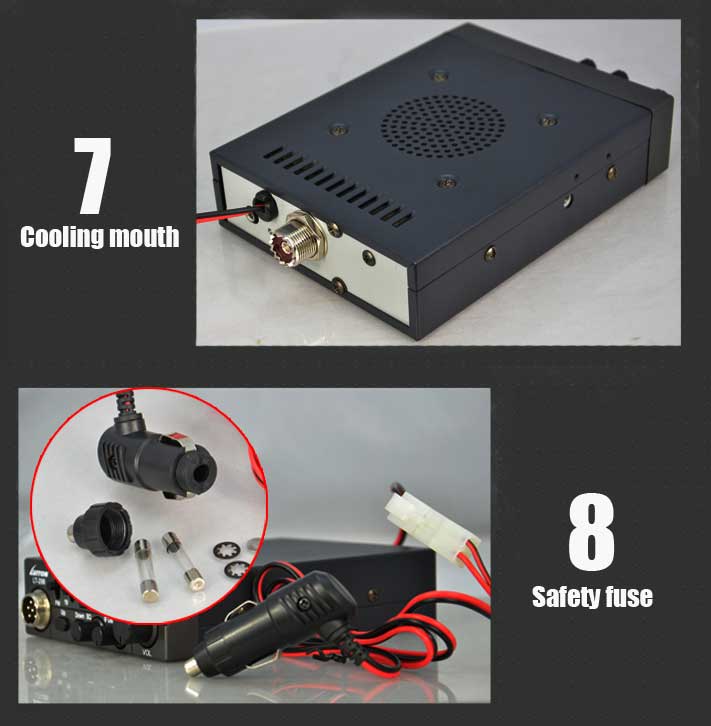 LT-298 27mhz CB radio
GENERAL
Channels
40 AM/FM
Frequency range
25.615 – 28.305 MHz
Frequency control
P.L.L.
Operating temperature
-10°/+55°C
DC input voltage
13.8Vdc ±15%
Size
115 (L) x 38 (A) x 150 (P) mm
Weight
0.8 kg
RECEIVER
System
CPU controlled Double conversion super
IF
1° 10.7 MHz / 2° 450 KHz
Sensitivity
-120dBm for 12dB SINAD (FM)
-107dBm for 12dB SINAD (AM)
Audio output
@10% THD 2.5W at 8 ohm
Audio distortion
<8% at 1 KHz
Image rejection
65dB
Adjacent channel
85dB
Signal ise ratio
45dB
Current drain
220mA (stand-by)
TRANSMITTER
System
CPU controlled P.L.L. synthesizer
Maximum RF power
4W at 13.8Vdc
Modulation
85% to 90% (AM)
1.8 KHz ±0.2 KHz (FM)
ANT impedance
50 ohm unbalanced
Current drain
1000mA (at no modulation)