Sale!
Ham Radio High Gain Antenna Ailunce AY02 Female Yagi-Uda Antenna
Description
Ailunce 
AY02

 Yagi-Uda Antenna High Gain Yagi Antenna Female Connector Walkie Talkie

Ailunce High Gain Antenna AY02 Yagi Antenna Female Connector Yagi-Uda Antenna Ham Radio antenna For UV-5R UV-82 BF-888S Walkie Talkie

Features:
High gain
Strong directionality
Strong anti-interference ability
Realize long-distance communication
Simple structure and easy disassembly
Lightweight and durable, easy to install
High cost performance

Model:AY02
UHF: 400-470MHZ
Best communication quality in the 430-450 MHz band
Gain:11DBi
connector:SO239(SL16-K)
length :69.5cm
weight:0.44KG
for: TYT MD380 MD390 MD398 TC-8000 TC-8200
Baofeng BF-888S BF-9700 BF-C3plus BF-C5plus….
leixeu:note
anysecu:S-338 DM-960 AC-6R AC-8R
PUXING:PX-2R PX-888/PX-888K PX-777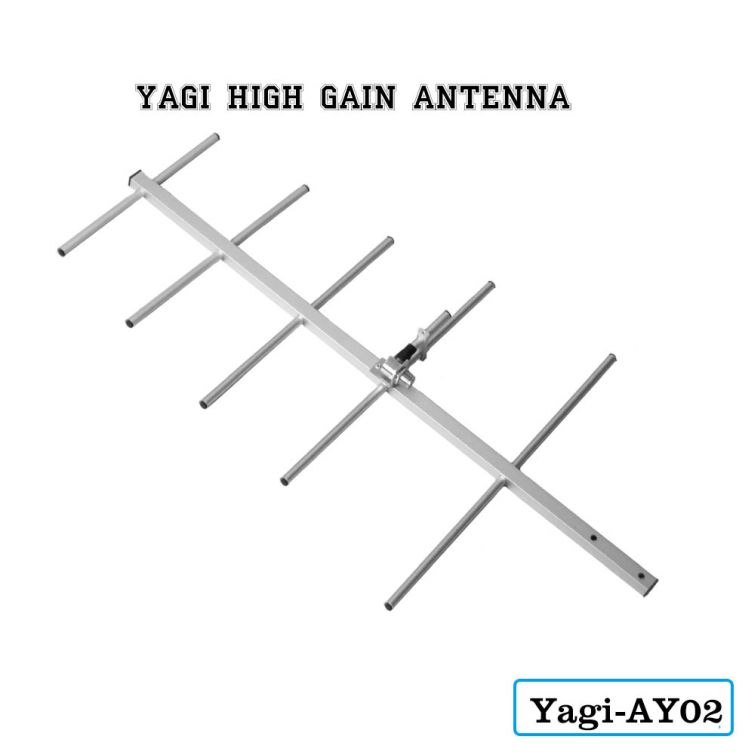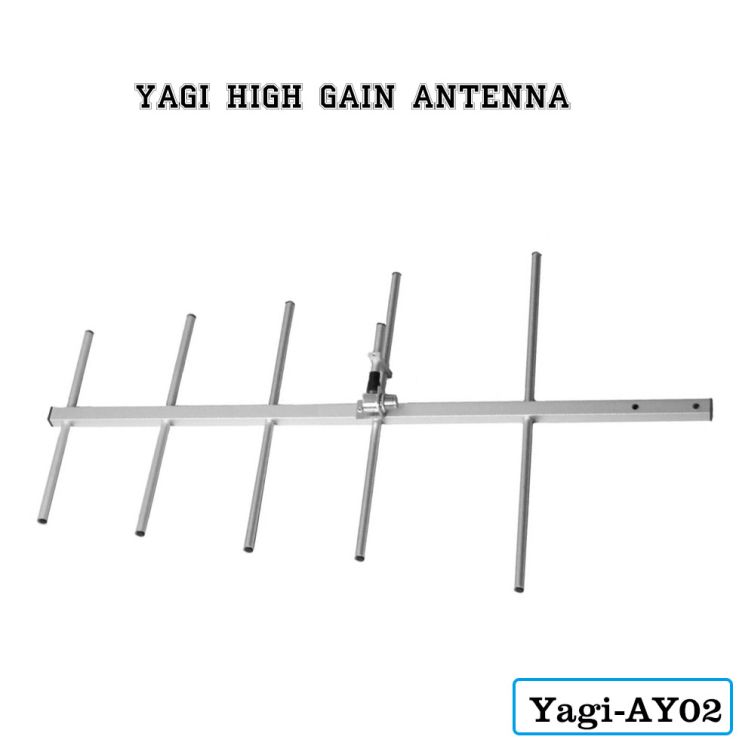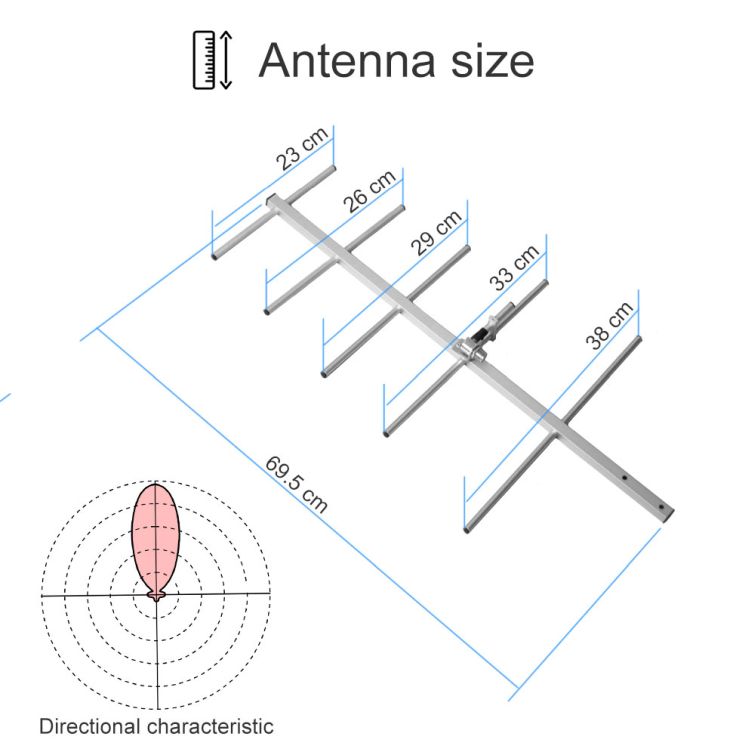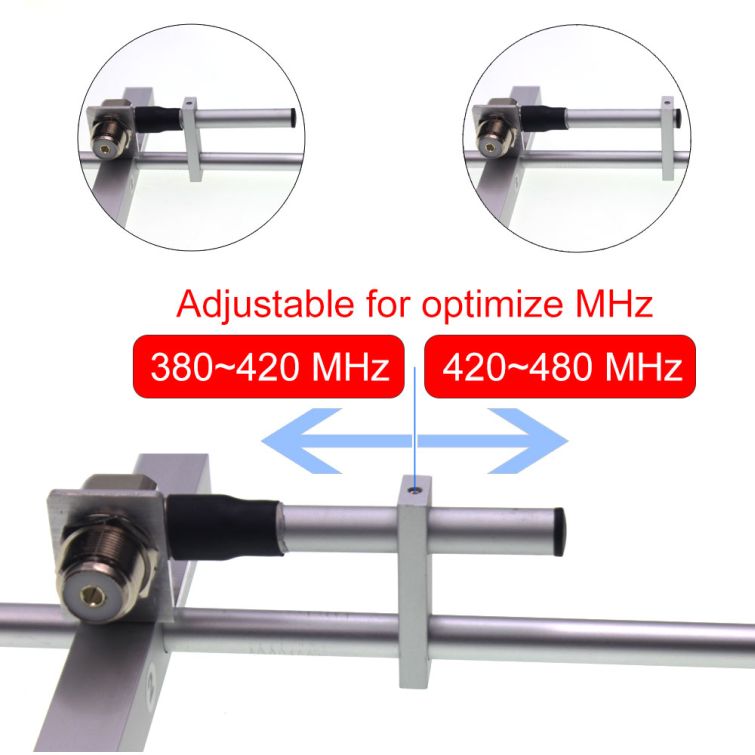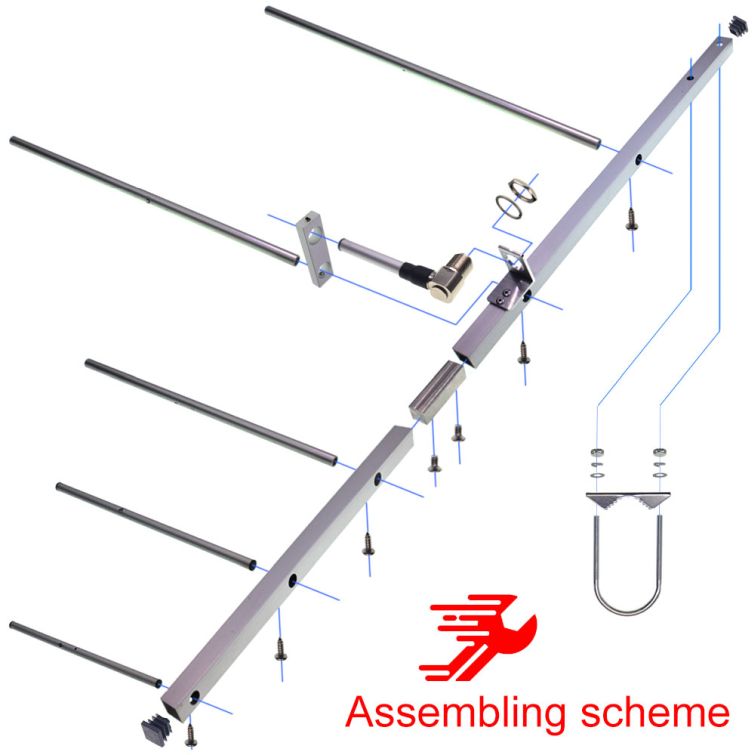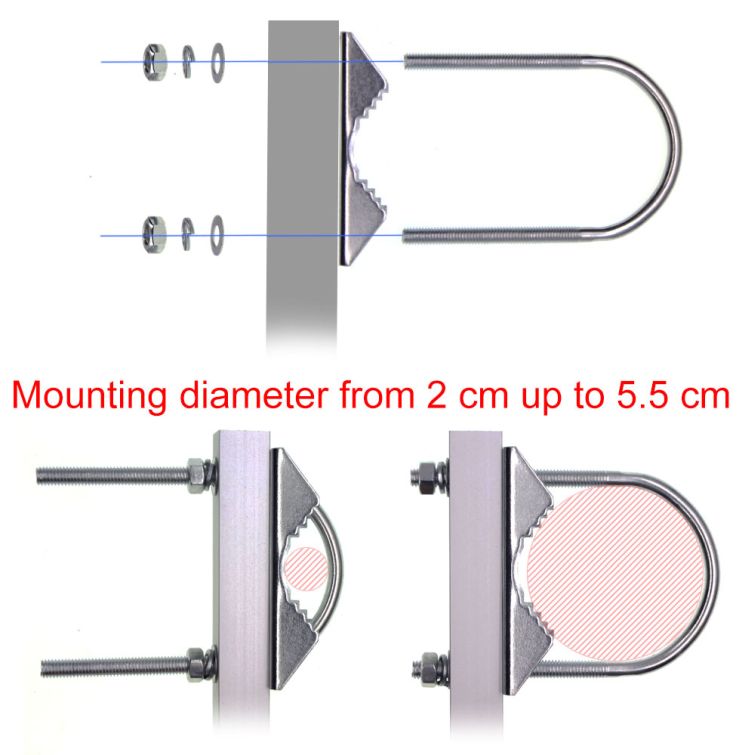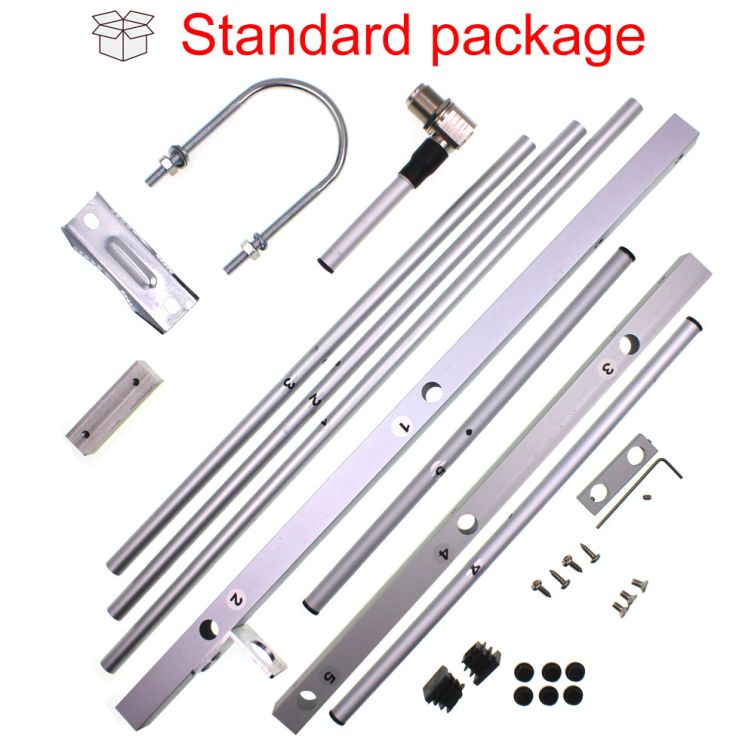 Brand
Ailunce
Ailunce
Ailunce
Ailunce
Model
AY01
AY02
AY03
AY04
Picture
Frequency
UHF
400-470MHz
UHF
400~470 MHz
UHF
400~470 MHz
UHF&VHF
136~174 &400~470 MHz

Connector

SL16-K
SL16-K
SL16-K
SL16-K
Length
46cm/18.11inch
45.2cm/17.8inch
72.5cm/28.5inch
92.5cm/36.4inch
Foldable
NO
YES
NO
NO
Product Size
460x360x60mm
452x351x47mm
725x380x48mm
925×1045×60 mm
Package Size
470*85*85mm
455*85*50mm
445*60*60mm
445*100*100mm
Weight
0.4Kg
0.4Kg
0.4Kg
0.85Kg
Gain
7 dBi
7 dBi
9 dBi
UHF9.5 dBi
VHF11.5 dBi
Element
3 Elements
3 Elements
5 Elements
VHF(3Elements)

UHF(5 Elements)
1.AY01
Description:
It can greatly increase communication distance, improve communication quality. Suitable for radio enthusiasts, people with high requirements for wireless communication quality and distance.
Features:
High gain
Strong directionality
Strong anti-jamming
Realize long distance communication
Simple construction and easy assembly and disassembly
Lightweight and sturdy, easy to set up
High cost performance
Specifications:
Brand: Ailunce
Model: AY01
Frequency: UHF
Gain: 7 dBi
Max power: 50W
V.S.W.R: Less 1.2
Impedance: 50 ohm
Connector: UHF Female(SL16-K)
Length: 46cm
Note: Best communication in the 430-440MHz band.
2. AY02
Brand: Ailunce
Model: AY02
Frequency: UHF
Length: 45.2cm/17.8inch
Feature
•3 Elements
•Foldable
•High Gain
•Strong directionality
•Strong anti-jamming
•Realize long distance communication
•Simple construction and easy assembly and disassembly
•Lightweight and sturdy, easy to set up
•High-cost performance
Electrical Specifications
Frequency Range
400~470 MHz
Bandwidth
20MHz
Impedance
50Ω
VSWR
<1.5
Gain
7 dBi
Polarization
Vertical
Horizontal 3dB Beam Width
53°
Vertical 3dB Beam Width
45°
Front To Back Ratio
>15 dB
Maximum Power Input-watts
100W
Lighting Protection
Direct Ground
Connector
SL16.K
Mechanical Specifications
Size
452 x 351x 47mm
Mounting hardware
Ø30~Ø40 mm
Rated Wind Velocity
60 m/s
Weight
0.4Kg
3. AY03
Brand: Ailunce
Model: AY03
Frequency: UHF
Length: 72.5cm/28.5inch
Feature
•5 Elements
•High Gain
•Strong directionality
•Strong anti-jamming
•Realize long distance communication
•Simple construction and easy assembly and disassembly
•Lightweight and sturdy, easy to set up
•High-cost performance
Electrical Specifications
Frequency Range
400~470 MHz
Bandwidth
50MHz
Impedance
50Ω
VSWR
<1.5
Gain
9 dBi
Polarization
Vertical
Horizontal 3dB Beam Width
58°
Vertical 3dB Beam Width
40°
Front To Back Ratio
>15 dB
Maximum Power Input-watts
100W
Lighting Protection
Direct Ground
Connector
SL16.K
Mechanical Specifications
Size
725 x 380x 48mm
Mounting hardware
Ø30~Ø40 mm
Rated Wind Velocity
60 m/s
Weight
0.4Kg
4.AY04
Brand: Ailunce
Model: AY04
Frequency: UHF&VHF
Length: 92.5cm/36.4inch
Feature
•VHF(3 Elements), UHF(5 Elements)
•High Gain
•Strong directionality
•Strong anti-jamming
•Realize long distance communication
•Simple construction and easy assembly and disassembly
•Lightweight and sturdy, easy to set up
•High-cost performance
Electrical Specifications
Frequency Range
144 & 430 MHz
Impedance
50Ω
VSWR
<1.5
Gain
9.5 dBi / 11.5 dBi
Horizontal Beam Width
53°/ 45°
Vertical Beam Width
48°/ 40°
Polarization
Horizontal or Vertical
Front To Back Ratio
>12 dB
Maximum Power Input-watts
100W
Lighting Protection
Direct Ground
Connector
SL16.K
Mechanical Specifications
Size
925×1045×60 mm
Mounting hardware
Ø30-Ø60 mm
Rated Wind Velocity
60 m/s
Weight
0.85Kg
Package Include(AY01):
1 x Boom
1 x Driven Element (DE)
1 x Director (D)
1 x Reflector (Ref)
1 x Clamp
1 x Installation Diagram
6 x gum cover
4 x Screw
Package Includes(AY02)
Ailunce AY02 Foldable Yagi Antenna
Package Includes(AY03)
Ailunce AY03 High Gain Antenna
Package Includes(AY04)
Ailunce AY04 High Gain Antenna
Additional information
| | |
| --- | --- |
| Weight | 0.6 kg |
| Dimensions | 500 × 200 × 100 mm |